| | |
| --- | --- |
| | |
| | |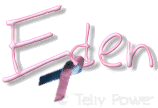 Some people dream of Angels...


We held one in our arms.

Eden Melika aka Squiggle.
Born 30/08/2005 @ 31 weeks gest.
2.41pm @ Middlemore hosp. New-Zealand.
4lb 1oz
44cm long
light brown hair
Eyes that we can only dream about as we never saw them open.
Joined the Angels 31/08/2005 @10.15am.

You came into this world too soon and were taken just as fast, Now memories is all we have...
The memories we hold of you will have to last, because it has to be like this then we will great you with a kiss upon your cross until we meet one day...

Eden was to be our last lil girl, she was going to make our family complete. We planned for so long to have her and when we found out we were pregnant and passed the news around the words "about time" come to mind. (Only three years late.)
Despite morning sickness and the odd discomfort every thing was going great!!! A dream pregnancy in comparison to Nikitas.(Big Sister). Nikita came to each appointment and was extremely excited to hear your heartbeat and then to see you on the scan-Another little princess we were told (Another girl) We knew without a doubt that we would call you Eden just your middle name we had to agree upon Melika or Riley, Nikita decided for us and you had a name.

On the week before you were born we were admitted to hospital with bleeding (? show) and allowed to come home once it settled. Monday 29th our waters broke while waiting to get Nikita from school, we were 31 weeks and although it was early we were excited as Nikita was born at 31 weeks too and everything turned out good there. We arrived at the assessment unit (mabau) and given steriods to mature your vital organs and antibiotics to stop infection, the doctors had in mind to keep you in me for about another 4 weeks or until you showed signs of distress. This didn't take long at all though, as by morning you were not moving as much as normal. After hours on the monitor and a scan we found out that you were having trouble
inside of me. You were born by emergency c-section.

You cried when you were lifted from me and everyone was so pleased to hear you and you were doing just fine you even scored 10/10 apgars, Daddy cut your cord and I got to kiss your forehead before you were taken to NICU. I sent Daddy with you because I didn't want you to be alone. (Something I never did when Nikita was born but am so glad I insisted upon). You were placed onto CPAP to help you to breath and other monitors to keep a close eye on you. I was taken back to the ward where Daddy showed me photos of you and everyone assured me you were fine.

Your big sister Nikita & cousin Rosa came to Nicu and looked at you through the window, they were so excited to see you. Aunty Donna also came to see you. Daddy bought me to see you later when I was allowed to come down, you had been moved from the incubator to the warming bed and your oxygen levels had to be raised,as your sats had dropped and you had turned white and limp when the nurse suctioned you and changed your nappy, they were unsure on if they would need to intubate you overnight. I got to touch your foot and fingers breifly before being asked to stop as it was causing you stress, I was fine with this as I knew that this was a hard time and there would be lots more cuddles and kisses in time to come...That was the last time we saw you truely alive.
On the morning of the 31st I tried to get the nurses to bring me down to see you they kept on stalling, I did manage to find out that you were ok and that your sats were doing better than the night before and they had returned the oxygen levels back a little.I gave permission for the nurses to give you a dummy, if only I knew ....
Finally I was bought to see you, As I was wheeled through the doors i will never forget the sound of machines beeping then seeing you with Doctors and nurses around you, the tubes down your nose in your mouth. The words, "We have done all we can, there was nothing more we could do", I was wheeled to your side,it was already too late, the machines were doing all your breathing, I told you I loved you I held your hand, stroked your arm, leg and hair. This couldn't be happening!!! Daddy arrived and saw the look on my face and the sentence was repeated "There is no more we can do" He burst into tears, his dreams shattered, you were a part of his dream and now you were gone. The Nurses removed the intubation tubes you had breathed your last breath, it was 10.15am.

You were wrapped into a blanket and passed to me to hold, we all cuddled and cried...all but you, you lay still in my arms, you were warm, you were soft, you were ours. How could this be, the first time we hold you and you were gone??
Daddy held you too and the tears continued to flow. We were taken so we could bath and dress you and make any calls that we had to make. We called your Aunty Donna to get her to pick up Nikita, poor Nikita...She so wanted you to be here, she so wanted "her baby Eden Melika", and now you were gone!!!

We bathed you and dressed you in a little gown that we were given by the hospital, you looked just like you were sleeping.
Aunty Donna , Nikita, Uncle Ronnie, Jess and Laura came to be with us and share the precious time we had with you. Uncle Ronnie brought you the most precious Teddy which you will hold with you forever, your first pressie...Thank you Ronnie I will never forget that.

We took Photos, held you, kissed you, Loved you. People came and people went...

Daddy and I spent the night with you. We changed you into a soft outfit to sleep and "keep you warm" for the night complete with singlet and socks and of course a little hat, we had your hair cut at the back and ink prints done of your feet. We held you till morning then let you have a little rest beside me in the bassinet while we too had a sleep.I woke and was hoping it would be a dream but it wasn't it was a nightmare....

People came and people went......

Plans were made for your funeral and I was allowed home from the hospital, you went with Colin to the funeral home and were returned to us the next morning in the outfit that Nikita and I had bought for you only weeks earlier. You looked just like you were sleeping, you were perfect. We held you and kissed you, re-counted your fingers and toes...so perfect....We took more photos and again fell to sleep with you by our side.

People came and people went....

The day of your funeral...
We took you outside briefly today so the sun could shine upon your face. We held you and kissed you some more. Nikita wrote and drew a heart upon your coffin lid so she could share her love with you forever. We kissed you good bye....tears flowing, want to wake up from this nightmare. The lid was placed upon your coffin. We let you go with Colin to the Cemetery, we followed...There were so many people...
We decided that we needed to see you and asked for the lid to be removed until after the hymn, We could see you again and got to kiss you that one last time, I am so glad we were able to do this.
I don't remember much else of the service, I do however remember you being lowered into the earth and kneeling down to give you a flower. The hole was so big, not deep but big around you...I wanted to join you...

Sweet dreams our little angel, We love you and you will always be in our hearts.


A few thank yous.....

Thank you first to Ian who is such a loving husband and Dad. For being here with us and taking such good care of our family, despite the pain you are also going through. We love you and always will.
And hey, we make cute bubbas!!

Thank you Nikita for all the hugs and kisses, for being strong enough to hold and kiss your little sister and for talking about her so freely, you are our precious girl who has had to go through far more than a child should ever have to endure. We Love you our sweet.

Thank you Anu for helping bring our little angel into this world and for coming and giving us hugs once she was gone.

Thank you again Ronnie, for the Ted you gave our girl. She has it with her and no doubt is having a blast with Kaytlen.

Thank you Jess and Laura for coming and taking care of Nikita for us. Thanks for running around after us. Thanks for the cameras and gifts and your guys endless love.

Thank you Donna for being there. I know it was not easy to do, and as I said to Ron, Eden will be with your Katlyen now.

We had moulds done of Eden feet and hands. Thank you Clare (Twinkle Toes) for coming and doing these for us. It couldn't have been an easy job to do, and we will never be able to thank you enough for giving us these precious memories of our little Eden.

Thank you Caro for having Nikita the week before while I was in hospital, for passing on the good and bad news, and for spending hours hunting and burning the music for the service.

Thank you Jas and Sheryl for the heart charms our girls now share and for being there.

Thank you Nic and Mark for all your help (you know what I mean). Thank you for the time out from normality and your guys endless love and caring.

Thank you Karen and David for being there, for offering your help, for taking care of Nikita.Your friendship is a wonderful thing.Thank you.

Thank you Tamara, my newest friend who dispite her own grief for her little boy Logan(Born an Angel= 02/06/2005) has been there for me. Your Love and support mean the world. We have been brought together in the worse possible way but I treasure having you there to share with and can't wait to meet you. Big hugs sweet.

A really big Thank you to all the staff on A and B floor (Meredith we would have been more lost those nights without you there) and NICU at Middlemore, Thank you Athol for bringing my lil girl back for me to kiss her before taking her to the unit. Thank you Linda for just being there, We appreciate all that you did, both for Eden and for our family.
To you all it may be just a job but to us it is way more than that.

So many thank yous... Thank you to all the people who came and meet our little girl and to those that didn't but sent there love, All those "I don't know what to says", thank you, we don't know what to say either, but just the thoughts really do count, there are no words nor will there ever be. Just dont be afraid to mention Edens name, she is very much a part of us and this we do not want forgotten.

Loved with a Love beyond telling,
Missed with a grief beyond tears.

We Love you forever Eden Melika....


((We have since found the cause of the sepsis in
which took our little girl from us, Eden had a Bacterial Infection called Streptococcus Oralis. It is still unknown where Eden got this infection from and we may never know....))

Words to the song you can hear, this was played at Edens funeral
China Roses=Enya

Who can tell me if we have heaven,
Who can say the way it should be;
Moonlight holly, the sappho comet,
Angel's tears below a tree.

You talk of the break of morning
As you veiw the new aurora,
Cloud in crimson,the key of heaven,
One love carved in acajou.

One told me of china roses,
One a thousand nights and one night,
Earths last picture, the end of evening;
Hue of indigo and blue.

A new moon leads me to
Woods of dreams and I follow.
A new world waits for me;My dream, my way.

I know that if I have heaven
There is nothing to desire.
Rain and river,A world of wonder
May be paradise to me.

I see the sun.
I see the stars.






PLEASE VISIT MY LIL SISTERS SITE
www.lainesanangel.memory-of.com